The boogeyman: stop rivals
The boogeyman: stop rivals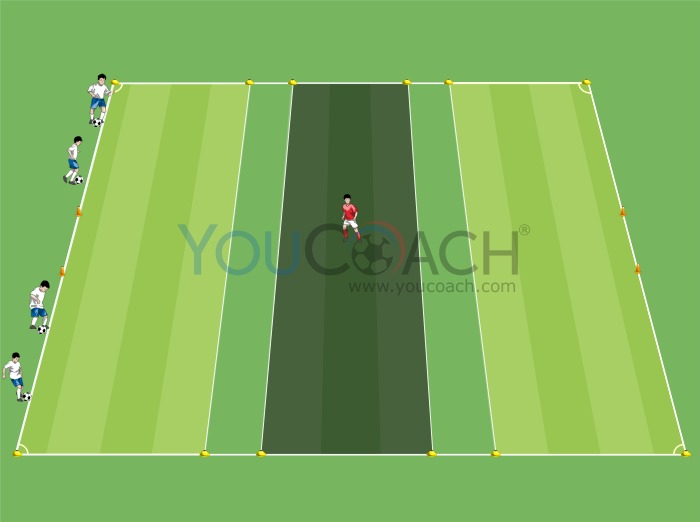 12 markers
4 cones
Sufficient balls for continuity
1 vest
Playing area: 20x20 meters
Players: 5
Duration: 12 minutes
Series: 3 series of 3 minutes with a 1 minute pause of passive recovery
Organization
Make a square of 20x20 meters using the markers. Place 4 markers per side on the two opposite sides, making five different vertical areas of 6, 2, 4, 2 and 6 meters respectively. On the sides where there are not markers make two goals on about 5 meters with the cones. Give a vest to one of the players, they will play as a defender (The black man) and goes to the four-meters central area. The 4 players without vest go to one of the two sides where there are goals. All players without vest must have a ball.
Description
Players without vest start dribbling and they must get to the last line of markers, before which they shoot at goal.
The defender with vest aims to take the ball away from the teammates before they get to the last line of markers.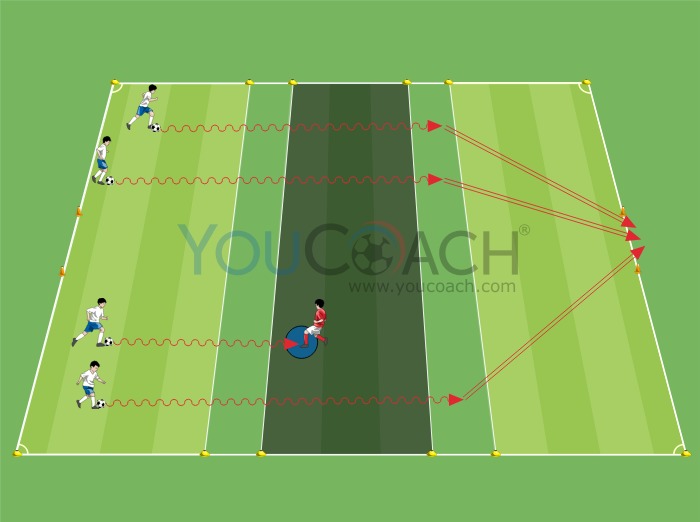 Rules
Each goal is worth one point
If the ball that the forwards possess is intercepted by the defender, the forward is eliminated
The defender can intervene only inside the central area, they cannot leave it
Forwards must shoot at goal from inside the area that is before the last zone of markers
Variations
The coach can add a goalkeeper to defend the goal
The coach can choose to place two defenders that can stop defenders
Coaching Points
With large groups make two playing areas to avoid long waiting times
Ease the success of the exercise to reward kids, allowing them to use their strongest foot to drive the ball
Keep the ball close to the foot
Try to execute safe impactcs with the ball
Be on top of the ball keeping the bust slightly bent forwards
The player must keep their head up, trying to reduce eye contact with the ball
Touch the ball with the outside of the foot, using the inside only for changes in direction
Control the situation developing peripheral vision