Ball recovery, verticalization, three-man attack: messi scores
Ball recovery, verticalization, three-man attack: messi scores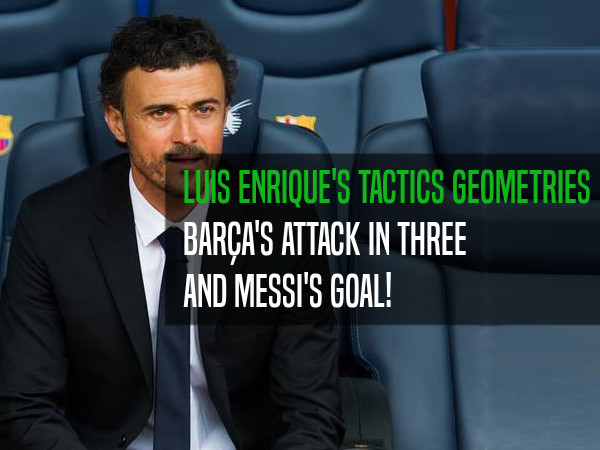 Let's review the video analysis of Messi's goal versus Rayo Vellecano: quick attack and geometry
Rayo Vallecano – Barcellona. Second last championship match. A great match! Rayo (third Madrid team) plays an open, and are very "Spanish" in ball control and in reading situations. Barcellona needs no introduction... In spite of the final score (5 -1 for Blaugrana) the match is animated by continuous attacks and counter-attacks
23' of the first half. Enrique's team leads 1-0 thanks to Rakitic's goal 1 minute before. Rayo is keeping possession and, as we can see in the figure, widens the two central defenders and makes the playmaker getting low for a larger width. Barcellona attacks in the ball zonea and shields the weak side.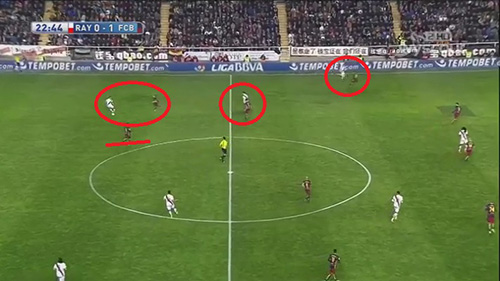 Rayo's ball control is good and skips Barcellona's "shield". Iniesta attacks immediately the new player carrying the ball. Rayo's playmaker plays vertically by heart. Mascherano is in position to anticipate.
The Argentinian defender recovers the ball and passes vertically on first intention to Messi who receives oriented to attack in behind.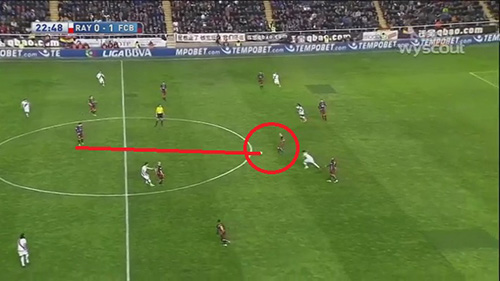 Messi attacks centrally. Suarez who is on the trajectory attacks widely on the right side. Neymar attacks widely on the left side.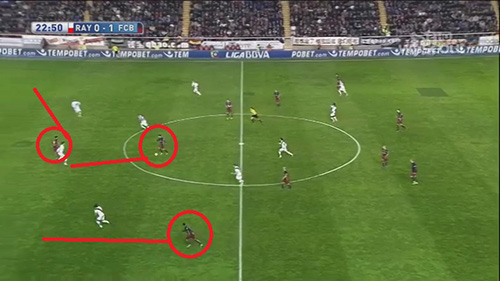 The three-man attack in the figure is textbook. In this situation the coach is crucial. All the three players position themselves to see the depth and run to attack. Width is not maximum, but appropriate to the field zone.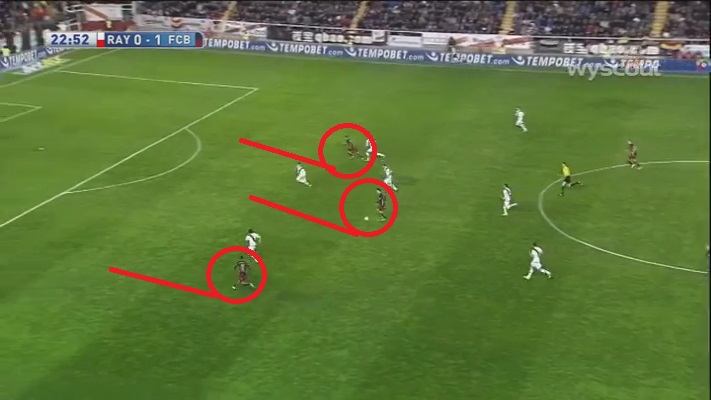 While the three-man deployment is mostly the result of Luis Enrique's work, the following actions can only be attributed to the three Barça stars. Messi plays into the depth for Neymar. This pass is of highest quality for intensity and precision.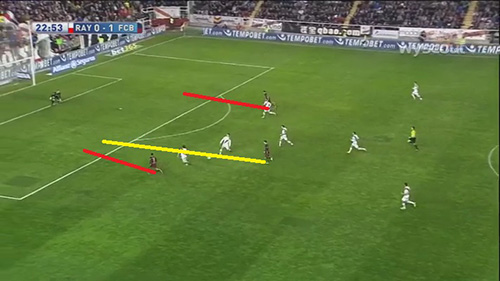 Neymar feints the cross for Suarez who is on the far post and makes his marker commit and slide. Then the ball is played behind to the Argentinian who doesn't miss the goal.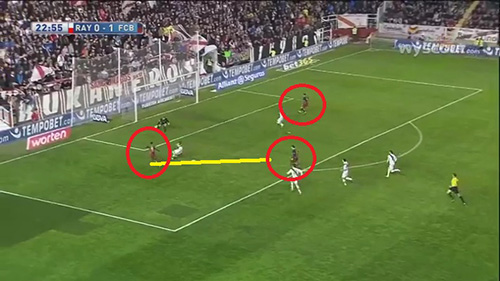 The Madrid team will end the match in 9 because of two red cards. Nevertheless, Rayo never give up playing the ball against their stronger Catalan opponents. This attack is textbook for the quality of the actions, as well as for the geometrical placement of the players in the attacking space. It's not up to us to remember it, but congratulations to Luis Enrique.