Small-sided Game - 5 vs 5, wide playing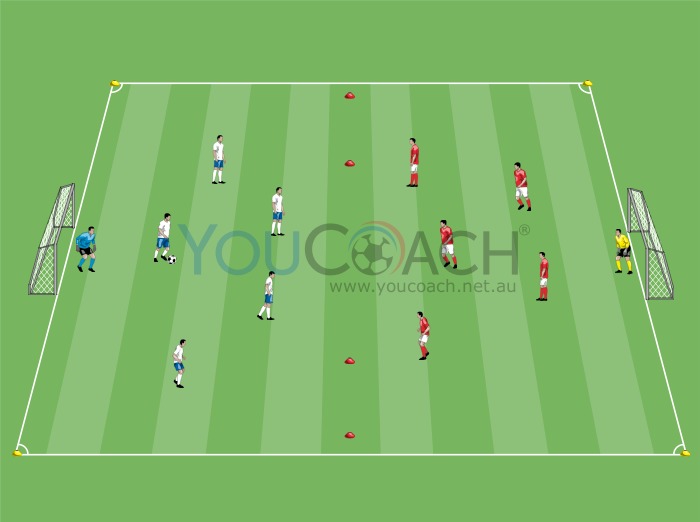 Enough markers to outline the field
5 vests
2 goals
Sufficient balls to ensure continuity
Playing area: 30x40 meters
Players: 10 + 2 goalkeepers
Duration: 12 minutes
Series: 2 series of 5 minutes interspersed with 2 minutes of passive recovery
Organization
Create a 30x40 area in the fixed zone. Using the markers form 2 small goals (2meters) and place them on the left and the right along the halfway line (as shown in the figure). Place a regulatory goal at the center on both of the short sides of the field. Split the players into two teams using the vests. The two goalkeepers stay in the goals.  
Description
The exercise consists of a classical game 5 vs 5 on the playing area
The objective of the team that carries the ball, is to make a pass through one of the two small goals and then shoot at goal
The pass through the small goal is valid only if performed towards the opponent half and if received by a teammate
Only after passing through the small goals the team is allowed to shoot on goal
If the defending team wins back the ball inside its own half  they attempt to keep possession and are obligated to pass through a small goal before shooting
If the defending team wins back the ball inside the opponent half it is allowed to shoot without passing through the small goal.
At the end of the series the team that scores the most, wins.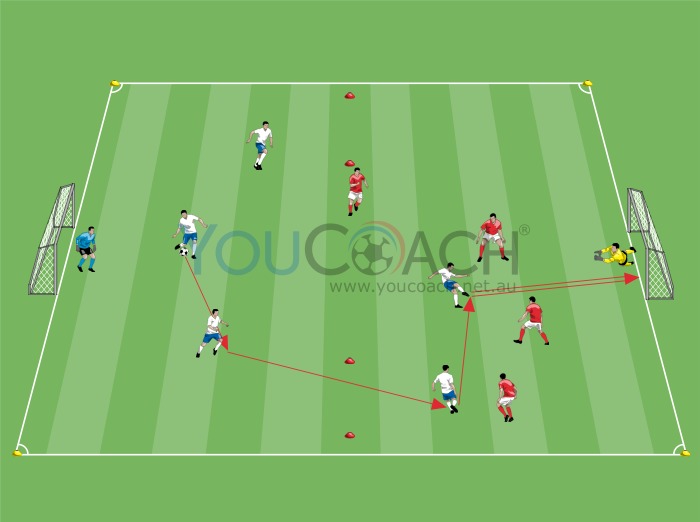 Rules
The team gets one point for each goal (in the regulatory goal)
Unlimited touches allowed
Keep the ball close to the ground
Force to pass from their own half towards the opponent's one
Variations
Add a nuetral player who plays with the team in possession
Restrict the number of allowed touches (maximum 3)
Enlarge the field size creating more space for small goal passing attempts
Coaching Points
Work on the concept of  playing in a closed way and then make a cross-field pass
Encourage the players to perform intense possession not allowing the defenders to close the passing lanes
The exercise is useful to train the players in losing their marker and take up positions to receive a pass
Encourage the defending team to anticipate the opponent closing down the possible passing lanes